The volunteer service award is named in honor of Rich Higgins, a former resident and president of the TRA Board. It acknowledges someone who has provided outstanding service to the Tano Road neighborhood.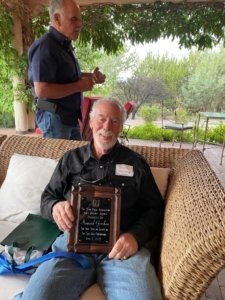 HOWARD GERSHON
Howard joined the TRA Board in 2007 and was elected Board president in 2014. He served two years as president then stepped down but remained on the Board, working on many TRA projects and activities for another five years. During that time, Howard coordinated the Trash Bash, served as Chair of the Membership Committee, worked on the natural gas extension projects, oversaw the update of the TRA's bylaws in 2012, and led the Trails Committee, until he retired from the Board in 2021. We thank Howard for his many years of service to the Tano Road Association and appreciate him as our longtime neighbor.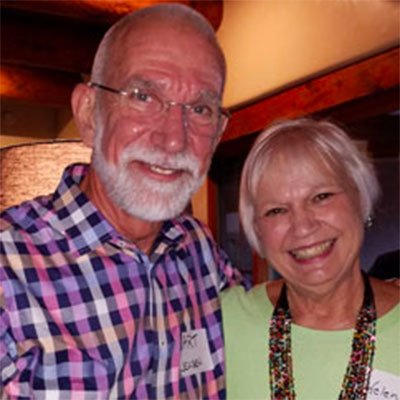 HELEN SWINSON
At the 2018 Spring Neighborhood Nosh, the Rich Higgins Service Award was given to Helen Swinson, presented by Art Jensen, President of the Board. Helen and her husband, Wayne, moved to Santa Fe in 2011 from Oklahoma where they both worked in the airline industry. She quickly became active in the Association studying the issues impacting our neighborhood, familiarizing herself with issues related to water, growth, development, and safety. She was on the security patrol and dedicated much time to the Membership Committee. She organized the first book club and suggested the idea for the cooking club. She's helped organize countless events including Noshes, New Comers' parties and annual meetings. She's one of the first persons to arrive for set up and the last to leave, ensuring the host's home is left clean.
FRANK PYTKO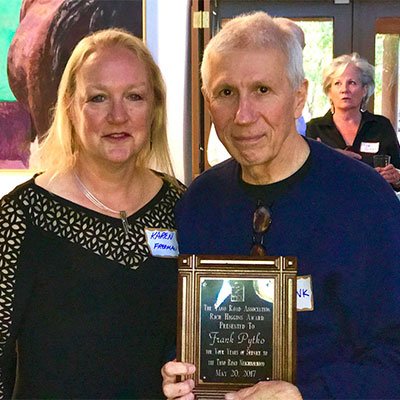 At the 2017 Spring Neighborhood Nosh, the Rich Higgins Service Award was given to Frank Pytko, a long-term resident of the Tano Road area with his wife, Toni Camp. Frank was honored for his service to the TRA, having spent years shepherding the Security Patrol. Frank served on the TRA Board and developed the first and only Security Patrol handbook. He also helped with our TRA Community Day during the two years that we had this event.

Frank is a native Chicagoan who attended the University of Illinois. He is one of the original computer geeks and, little known fact, was a wild, long-haired drummer with a rock band.
JUNE KIRKPATRICK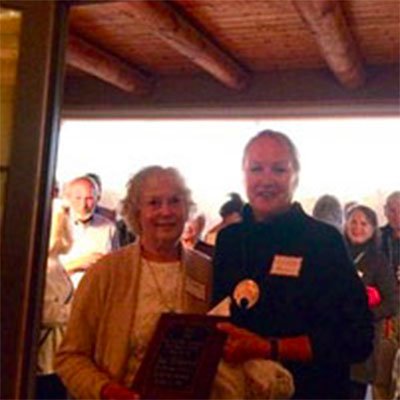 October 15, 2016 President Karen Freeman presented the Rich Higgins Service Award to long time resident and active TRA member, June Kirkpatrick. June and her husband Charles have been here since 1973, but, sadly, will be moving to Albuquerque soon. June was on the Security Patrol for 18 years and then was the call-in person who tracked the patrol equipment. (In earlier days, patrollers would call June in the morning when they went out for their first run – she always answered cheerfully at 8am!) She also served on the Ways and Means Committee and worked on getting Tano Road paved – before that, you needed special mud tires to live out here.

In addition to all she has done for us, she has had young school children out to meet her llamas, sheep and goats, she chaired the Opera Guild and volunteered for the Red Cross. She and Charles used to own the Inn at Loretto.
WINKY VAN DER HOEVEN
September 17, 2015 Howard Gershon, President, awarded the Rich Higgins Service Award to Winky van der Hoeven in recognition of her years of volunteering for the Tano Road Association. In addition to having served for years on the TRA Security Patrol, Winky helped the team develop our website at www.tanoroad.org, and has served as webmaster ever since.
ELLEN COLLINS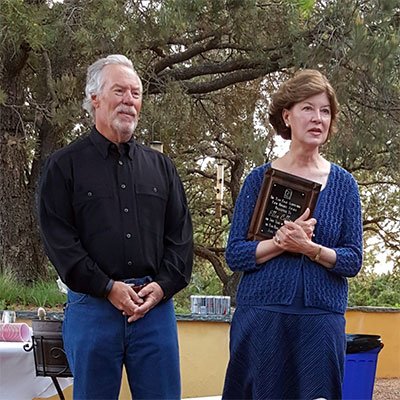 The Rich Higgins Award was given to Ellen Collins at the June 6, 2015 Neighborhood Nosh in appreciation of her tireless efforts on our behalf concerning water and the Northwest Well. Ellen Collins has made this work virtually a full-time job! As she said, "I believe we are well on our way to a resolution with the City, and I continue to hope that this will be resolved soon!"
RICH HIGGINS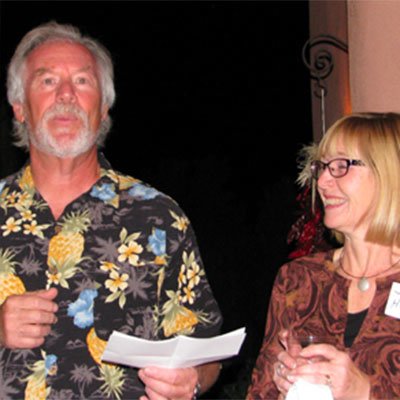 At the fall 2014 Neighborhood Nosh, Howard Gershon announced that the volunteer service award has been renamed in honor of Rich Higgins, former president of the Association Board and Board member from 2008 until his untimely death in 2014. His leadership and efforts on behalf of our community have been invaluable and will be missed, as will his ready smile and kind words.. The award was presented posthumously to his widow, Jean.
PAM PRESTON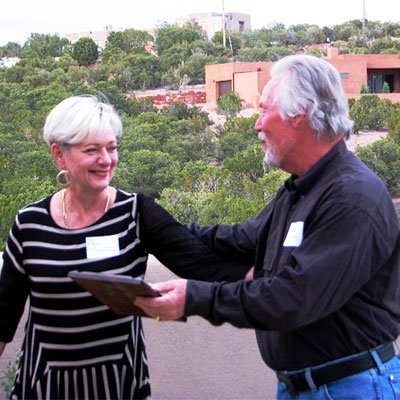 On May 17, 2014 at the Neighborhood Nosh, Pam Preston was recognized for her service to the Tano Road area. Pam has served on the Board of the TRA, was instrumental in road improvements, was involved with getting DSL service to this area via Cybermesa, has been finding homes for our Neighborhood Noshes for many years, AND serves on the Membership Committee, especially with identifying new neighbors via home transactions. In her spare time, Pam is a real estate agent and breeds miniature poodles. Thank you, Pam, for your service to the neighborhood.
DICK HABER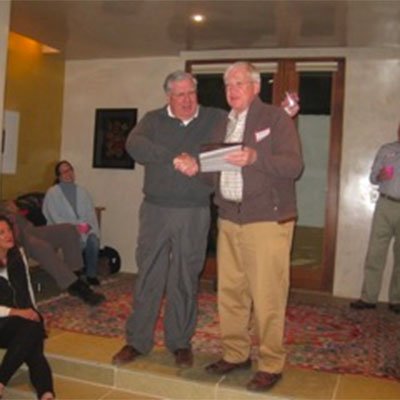 At the TRA Neighborhood Nosh on October19, 2013 Dick Haber received the neighborhood's highest recognition. Entitled the TRA Treasure, the award is given to those Tano Road residents that exhibit the highest level of citizenship in the community. Besides serving on the TRA Board, Dick ran the Trash Bashes for many, many years. He is also a decade plus member of the Security Patrol. In the greater community Dick serves on the Board of Las Golondrinas and is very active in Habitat for Humanity. Dick is supported by his wonderful wife, Sarah. By the way Dick also loves model trains! Dick, thank you for all you do and being a great neighbor!
JIM BORREGO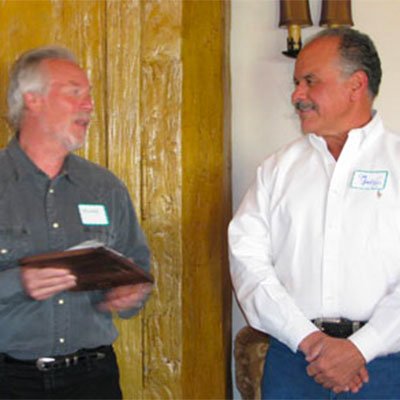 Jim was honored as a TRA Treasure at the May 4, 2013 Neighborhood Nosh. Jim is a rarity on Tano Road, he is a native Santa Fean. He has a degree in Civil Engineering from NM State and is a partner in a successful residential and commercial construction and development firm with his brothers, working in NM, CO and TX. He serves on the Board of Regents of the New Mexico School for the Deaf and is active in SF Chamber of Commerce. Jim served on TRA Board twice and was a key contributor on water issues.
Jim likes to play with his cows and hunt in his spare time.
MELINNE OWEN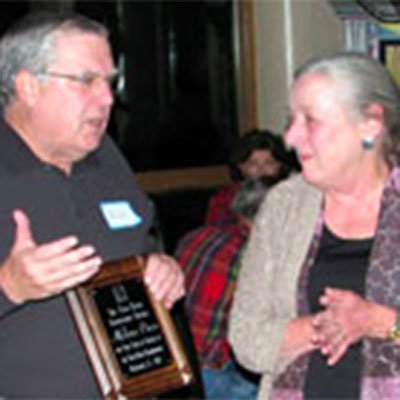 Long time Tano Road resident Melinne Owen was named a Tano Road Treasure at the Neighborhood Nosh on Saturday, October 13, 2012. Melinne is the fourth person to win that award. The award is given by the Tano Road Association for exceptional service to the Tano Road community.

Melinne and her husband Paul moved to Tano Road in 1998. This was after Melinne had been a Peace Corps member and taught in China. She is an accomplished artist in her own right and today not only produces art but is a key player in the Folk Art Market here in Santa Fe.

Melinne has served the Tano Road community on many levels. She was a Board member and Board President. As a member she was very active in the Water Protest in 2000. She is also a long term Security Patrol member. The current President, Rich Higgins, values her insightful advice highly because she has seen it all. Finally, we all enjoy what she and Paul bring to the neighborhood.
MARGARET ALEXANDER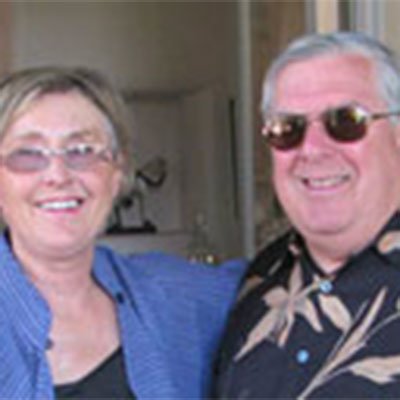 On Saturday, May 5, 2012 the TRA honored Margaret Alexander at the Neighborhood Nosh for her spearheading of the development of trails throughout the Tano Road area.
Margaret and her husband David have lived in our neighborhood for 26 years. Margaret always loved walking and wanted to help develop trails for people to hike and enjoy this beautiful country. Today, she is a Board member of the Santa Fe Trails Association and the Santa Fe Conservation Trust, and works closely with the Santa Fe Torture Trail event, the largest bike event in New Mexico.

Margaret continues to travel this land, running six miles three times a week and walking her dogs on the "off" days.
BARBARA JEFFE
October 15, 2011 Barbara Jeffe became the second person to be awarded the Tano Road Association Outstanding Neighbor Award. Barbara had been a 20 year resident and long term Board member. She was particularly recognized for her work in developing and upgrading the neighborhood's road system. Barbara and her husband, Perry, moved away from Santa Fe in 2012
JIM DUNCAN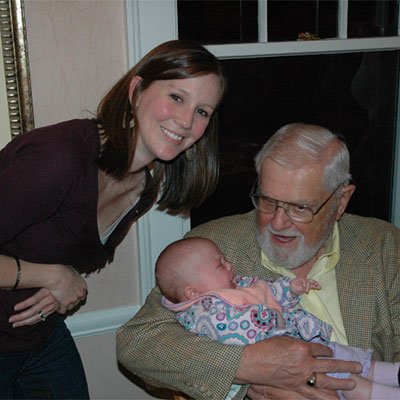 At the TRA sponsored Neighborhood Nosh on May 21, 2011 the TRA honored our neighbor, Jim Duncan, for his 22 year dedication to the Security Patrol.


Just retired from the Patrol, Jim had guarded the neighborhood for 22 years dedicating his time to protecting his neighbors. Jim, we recognize your devotion and selflessness with grateful hearts, thank you is too small but it is all we can offer. If you think 22 years patrolling is special, the rest of Jim's life story is pretty amazing. Decorated numerous times in the European Theater of World War 11 including service at the Battle of the Bulge with the Second Infantry, Jim is too modest to state the number of Bronze Stars and Purple Hearts he received. These awards are for being wounded in combat and valor under fire. After the war during a successful career in banking he rose to become a bank President. He also supported his alma mater by helping found the Western Michigan University Foundation. Here in Santa Fe, he chaired our local Santa Fe Community Foundation. Whew! Jim is pretty special and we once again thank him for his service and are proud to have him as a neighbor.